Use of conflict management techniques as a business management and internal marketing tool in the hotel sector
María del Carmen Paradinas Márquez

ESIC Business & Marketing School de Madrid (España)
Keywords:
Conflict management, internal marketing, ADR, hospitality industry, tourism
Abstract
challenges and face change in a way that allows them not only to survive, but to continue to generate competitive advantage, especially companies dedicated to the tourism sector, which is such an important engine of the Spanish economy.
One of the ways to stand out in the environment is to focus their strategic efforts on increasing their sales and attracting the greatest number of tourism-related agents, but this implies that sometimes they leave the internal customer out of their competitive plans.
Precisely, one of the main values in these organizations is the human capital that they are made up of. They are the ones who make the organization work and the fact of working in an environment with the least possible number of conflicts and a good working environment makes them more productive and the best brand ambassadors, both of the workplace and of the tourist location where it is located, thus assuming a dynamic element of the local economy.
The aim of this paper is to analyse which tools, such as the well-known Alternative Dispute Resolution, are used by companies to manage conflicts that may arise among their staff and thus generate a feeling of belonging and connection between staff and the company.
The analysis has focused on reviewing the current state of the issue, focusing the research on the possible impact that the conflict may have on tourists.
References
Acland, A. (1990). A Sudden Outbreak of Common Sense. Managing Conflict Through Mediation. London: Hutchinson Business Books.

Albulquerque, F. (2014). Sistemas productivos locales: una mirada desde la política económica local para la generación de empleo. OIT Argentina. Buenos Aires: Seminario CEPAL-MTE y SS.

Arias-Cardona, A.M y Arias-Gómez, M. (2018). Conflicto y Educación Superior: narrativas y vivencias de jóvenes universitarios estudiantes de Ciencias Sociales y Humanas. CES Pisco, 11(1), 56 - 68.

Braubaker, D., Noble, C., Fincher, R., Park, S. y Press, S. (2014). Confl ict Resolution in the Workplace: What Will the Future Bring? Conflict Resolution Quartely, 31(4), 357 - 386.

Brown, L. (1983). Managing Conflict at organizational interfaces. Reading: Addison Wesley Publishing Company.

Castro, M. (1987). Conflicto y poder en las organizaciones. Madrid: Centro de Publicaciones. Ministerio de Trabajo y Seguridad Social.

Coser, L. (1970). Nuevos aportes a la teoría del conflicto social. Buenos Aires: Amorrortu.

Die, F. (2013). Análisis de las necesidades jurídicas y metodológicas para la implementación de sistemas ADR en centros hospitalarios públicos. Doctoral Dissertation. Universidad Complutense de Madrid.

Gómez y Patiño, M.G, Medina, F.X. y Puyuelo, J.M. (2015). Efectos de la crisis y propuestas para su recuperación en el sector turístico español. Harvard Deusto Business Research, 4(2), 62 - 72. doi:http://dx.doi.org/10.3926/hdbr.72

Gómez, G. (2013). Conflicto en las organizaciones y mediación. Doctoral Dissertation. Universidad Internacional de Andalucía.

Gutiérrez, T. (2017). Conflictos y relaciones en los equipos de trabajo de las organizaciones. REICE. Revista Electrónica de Investigación en Ciencias Económicas, 5(10), 108 - 114.

Guzman - Sala, A. (2019). La atractividad territorial: análisis de los factores que influyen en el desarrollo turístico de los destinos. Journal of Tourism and Heritage Research, 2(3), 408 - 429.

Hocker, J.L. y Wilmot, W.W. (2014). Interpersonal Conflict. New York: McGraw - Hill Higer Education.

Leal, M.P. y Hernández - Maskivker, G. (2016). Green practices in hotels: the case of the GreenLeaders Program from TripAdvisor. Proceedings of the 7th International Conference on Sustainable Tourism (págs. 1 - 13). Valencia: WIT Transactions on Ecology and The Environment,. doi:doi:10.2495/ST160011

Linkedin Talent Solutions. (2019). Recursos para mejorar la retención de empleados. Obtenido de business.linkedin.com: https://business.linkedin.com/content/dam/me/business/es-mx/talent-solutions/resources/pdf/es-latam-final-8-2-ebook-final.pdf

Meneses - Carvajal, A. (2013). Subjetividad y vínculo social: el conflicto constitutivo del imaginario individual en las organizaciones laborales. Convergencia, Revista de Ciencias Sociales(63), 207 - 229.

Millán, G., Millán, S. y Arjona, J.M. (2016). Análisis del flamenco como recurso turístico en Andalucía. Cuadernos de Turismo(38), 293 - 321.

Munduate, L., Ganaza, J. y Alcaide, M. (1993). Estilos de gestión del conflicto interpersonal en las organizaciones. Revista de Psicología, 8(1), 47 - 68.

Passos-Simancas, E.S. y Arias-Aragonés, F.J. (2016). El capital humano como factor de competitividad en la industria hotelera y turística en Cartagena. Panorama Económico, 24, 269 - 282.

Paterson, J. (2014). Why conflict is good for business. Obtenido de Stanford Business School: https://www.linkedin.com/pulse/20140328060449-11846967-why-conflict-is-good-for-business

Pondy, L. (1967). Organizational Conflcit: concept and models. Administrative Science Quarterly, 12(2), 296 - 320.

Rahim, M. (2017). Managing Conflict in Organizations. Routledge.

Rojas-Berrio, S., Rojas-Berrio, S.I. y Robayo-Pinzón, O. (2019). Marketing, internacionalización y turismo del patrimonio cultural: revisión bibliográfica. Journal of Tourism and Heritage Research, 2(2), 189 - 206.

Sayas, R. (2015). Conflcito. Economia. Revista en Cultura de la Legalidad, 212 - 221.

Van de Vliet, E. y. (1994). Optimizing performance and stimulating conflict. Internatonal Journal of conflict management, 5, 211 - 222.

Vázquez, F., Millán, G. y Arjona, J.M. (2017). Enoturismo en un destino de sol y playa. el caso de málaga, una revisión bibliográfica. International Journal of Scientific Management and Tourism, 3(4), 591 - 608.

Villena, E. (2019). Social media and fashion-branded hotels: the case of Armani hotels. Journal of Tourism and Heritage Research, 2(3), 408 - 420.

Yirik, S., Yildrim, B.I. y Çentinkaya, N. (2015). A study on conflict management and conflict resolution in hospitality organizations. International Journal of Arts & Sciences, 8(8), 77 - 88.

Yohn, D. (2016). Design your employee experience as thoughtfully as you design your customer experience. Obtenido de Harvard Business Review: https://hbr. org/2016/12/design-your-employee-experience-as-thoughtfully-as-you-design-your-customer-experience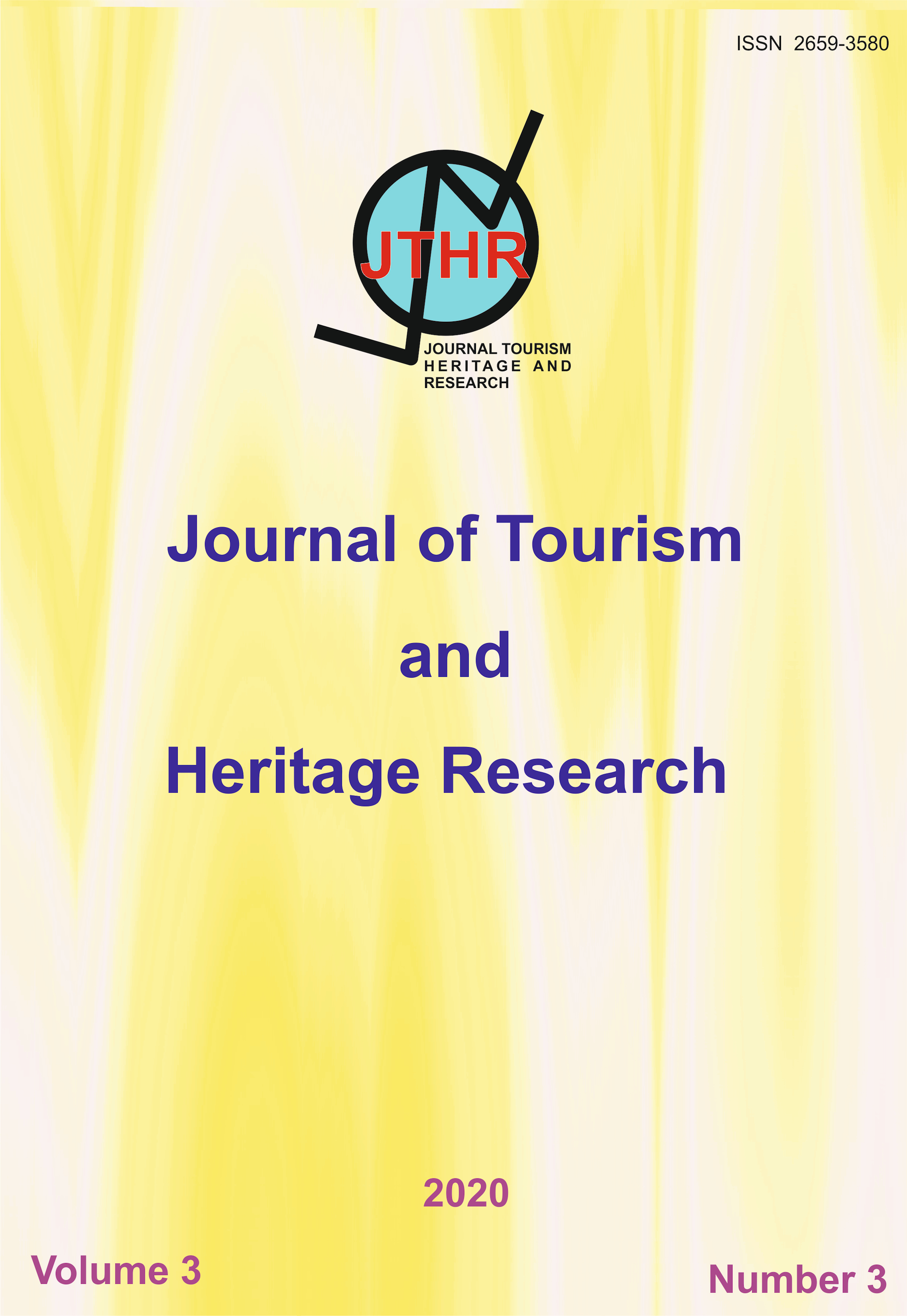 How to Cite
Paradinas Márquez, M. del C. (2020, July 1). Use of conflict management techniques as a business management and internal marketing tool in the hotel sector. Journal of Tourism and Heritage Research, 3(3), 131-144. Retrieved from http://www.jthr.es/index.php/journal/article/view/204
This work is licensed under a Creative Commons Attribution 4.0 International License.
1.The works published in this magazine are subject to the following terms: Tourism Research Association (the publisher) preserves the patrimonial rights (copyright) of the published works, and favors and allows the reuse of them under the license of use indicated in point 2.
© Investur, 2017
2.The works are published in the electronic edition of the magazine under a Creative Commons Attribution-NonCommercial-NoDerivative 3.0 Spain (legal text) license. They can be copied, used, disseminated, transmitted and publicly displayed, provided that: i) the authorship and the original source of their publication (journal, editorial and URL of the work) are cited; ii) are not used for commercial purposes; iii) the existence and specifications of this license are mentioned.
3. Self-file conditions. Authors are allowed and encouraged to disseminate electronically the pre-print versions (version before being evaluated) and / or post-print (version evaluated and accepted for publication) of their works before publication, since it favors their circulation and earlier dissemination and with it a possible increase in its citation and scope among the academic community.