The cultural sights accessibility: the case of Barcelona
Ester Noguer Juncà

EUHT Sant Pol

Alvar Sáez Puig

Euroaula Escuela Universitaria,Barcelona.
Keywords:
accessibility, cultural tourism, Barcelona, social integration, accessible tourism
Abstract
The public and private bodies of different tourist destinations want to become tourist areas accessible for all people, independently of their physics, sensorial and/or intellectual nature. The present article intents to analyse, through field work and reference documents of international organizations like WHO or WTO, if some of the most visited cultural sights of Barcelona (Sagrada Familia, Park Güell, El Born Centre Cultural y Museo Picasso) achieve the national accessibility code, and consequently, provide ideas to improve the accessibility and achieve a global accessible city for all the citizens and tourists. 
References
Darcy, S. y Dickson, T. (2009). A Whole-of-Life Approach to Tourism: The Case for Accessible Tourism Experiences. Journal of Hospitality and Tourism Management, 16, 1, p. 32-44. Doi: 10.1375/jhtm. 16.1.32

Fundación ONCE. (2011). Accesibilidad Universal y Diseño para Todos. Arquitectura y Urbanismo. Recuperado de http://www.fundaciononce.es/sites/default/files/docs/Accesibilidad

Hosteltur. (2018). ONCE y la Agencia Catalana de Turismo impulsarán el turismo accesible. Recuperado de https://www.hosteltur.com/126491_once-agencia-catalanaturismo-impulsaran-turismo-accesible.html

Molina, M. & Cànoves, G. (2010). Turismo accesible, turismo para todos. La situación en Cataluña y España. Cuadernos de Turismo, 25, 25-44.

Observatorio Estatal de la Discapacidad. (2017). Informe Olivenza 2017, sobre la situación general de la discapacidad en España. Recuperado de https://observatoriodeladiscapacidad.info/attachments/article/110/Informe%20Olivenza%202017%20v5.7.pdf

Organización de las Naciones Unidas. (1993). Disposiciones de referencia para la igualdad de oportunidades para las personas con discapacidad, Resolución 48/96. Recuperado de http://www.eunwto.org/doi/pdf/10.18111/9789284416486

Organización de las Naciones Unidas. (2006). Convención sobre los Derechos de las Personas con Discapacidad. Recuperado de http://www.eunwto.org/doi/pdf/10.18111/9789284416486

Organización Mundial del Turismo. (2014). Manual sobre Turismo Accesible para Todos: Principios, herramientas y buenas prácticas. Módulo I: Turismo Accesible. Recuperado de http://www.eunwto.org/doi/pdf/10.18111/9789284416486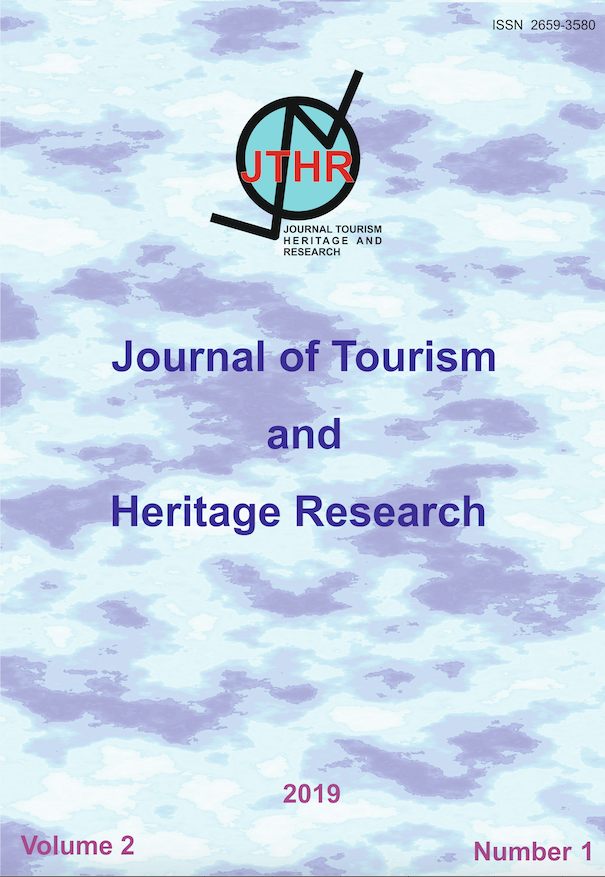 How to Cite
Noguer Juncà, E., & Sáez Puig, A. (2019, February 26). The cultural sights accessibility: the case of Barcelona. Journal of Tourism and Heritage Research, 2(1), 183-203. Retrieved from http://www.jthr.es/index.php/journal/article/view/37
1.The works published in this magazine are subject to the following terms: Tourism Research Association (the publisher) preserves the patrimonial rights (copyright) of the published works, and favors and allows the reuse of them under the license of use indicated in point 2.
© Investur, 2017
2.The works are published in the electronic edition of the magazine under a Creative Commons Attribution-NonCommercial-NoDerivative 3.0 Spain (legal text) license. They can be copied, used, disseminated, transmitted and publicly displayed, provided that: i) the authorship and the original source of their publication (journal, editorial and URL of the work) are cited; ii) are not used for commercial purposes; iii) the existence and specifications of this license are mentioned.
3. Self-file conditions. Authors are allowed and encouraged to disseminate electronically the pre-print versions (version before being evaluated) and / or post-print (version evaluated and accepted for publication) of their works before publication, since it favors their circulation and earlier dissemination and with it a possible increase in its citation and scope among the academic community.