AN OVERVIEW OF THE SCIENTIFIC RESEARCH ON SHOPPING TOURISM: FROM SCIENTIFIC PRODUCTION TO SCIENTIFIC COMMUNICATION
investur investur

Eduardo Villena-Alarcón

Universidad de Málaga
Abstract
Fashion has become a key concept for the tourism sector due to shopping tourism satisfies an additional incentive for both travellers and destination. Despite the increase in interest in shopping tourism and its importance for tourism destinations, the academic community has not been able to identify the importance of this activity for tourism destinations. This study aims to review the scientific production in order to further and improve the academic literature on shopping tourism. Based on this, the research resorts to the bibliometric analysis of the different articles published on the object of study in journals indexed in the Web of Science. The results respond to indicators such as quantity, quality, and structure in order to know the scientific production, identify the invisible university and discover future topics. This paper reveals an incipient interest in luxury shopping tourism
References
AbuKhalifeh, A. N., & Mat Som, A. P. (2016). Customer perceptions of service quality in luxury hotels in Jordan. Journal of Tourism, Hospitality & Culinary Arts, 8(2), 36-44.
Bada, O. (2013). The emerging role of fashion tourism and the need for a development strategy in Lagos, Nigeria. Case study: Lagos fashion and design week, thesis. Centria University of Applied Sciences, Kokkola-Pietarsaar Unit, Finland.
Callon, Michael; Courtial, Jean-Pierre; Laville, Françoise (1991). "Co-word analysis as a tool for describing the network of in-teractions between basic and technological research: The case of polymer chemsitry". Scientometrics, v. 22, n. 1, pp. 155-205. https://doi.org/10.1007/BF02019280
Capone, F., & Lazzeretti, L. (2016). Fashion and city branding: An analysis of the perception of Florence as a fashion city. Journal of Global Fashion Marketing, 7(3), 166–180.
Chiu, C. K. (2009). Understanding relationship quality and online purchase intention in e-tourism: A qualitative application. Quality & Quantity, 43(4), 669-675.
Codina, M. (2004). Crear moda, hacer cultura. Ars Brevis, 43-62.
Curras-Pérez, R., Ruiz, C., Sanchez-Garcia, I., & Sanz, S. (2017). Determinants of customer retention in virtual environments. The role of perceived risk in a tourism services context. Spanish journal of marketing-ESIC, 21(2), 131-145.
Davidova, E. (2010). Post-1989 shopping tourism to Turkey as prologue to Bulgaria's "return to Europe". New Perspectives on Turkey, 43, 135-164.
Dikaiou, A. (2018). Fashion in Tourism: is the importance of fashion events underestimated in its effect in the growth of tourism in New York, London, Milan, Paris and finally Athens? Dissertação (Master of Science in Hospitality and Tourism Management), School Of Economics, Business Administration & Legal Studies, International Hellenic University, Thessaloniki.
García, H. C., Gallarza, M. G., Gardó, T. F., & Osullivan, P. (2016). Tourism and fashion: factors affecting trip length. Universia Business Review, (51), 18-51.
Hung, K., Ren, L., & Qiu, H. (2021). Luxury shopping abroad: What do Chinese tourists look for? Tourism Management, 82, 104182.
Jansson J, & Power, D. (2010). Fashioning a global city: global city brand channels in the fashion and design industries. Reg Stud, 44(7), 889-904.
Jorge, F., Paulino, M., Teixeira, M. S., Losada, N., Gonçalves, R., & Martins, J. (2020). Determinantes de la compra online de productos turísticos por los consumidores españoles. Revista Ibérica de Sistemas e Tecnologias de Informação, (E34), 527-541.
Lewis, C., Kerr, G.M. & Burgess, L. (2013). A critical assessment of the role of fashion in influencing the travel decision and destination choice. International Journal of Tourism Policy, 5(1/2), 4-18.
Li, C. S., Zhang, C. X., Chen, X., & Wu, M. S. S. (2020). Luxury shopping tourism: views from Chinese post-1990s female tourists. Tourism review.
Lucarelli, A., & Berg, P. O. (2011). City branding: a state-of-the-art review of the research domain. Journal of place management and development, 4(1), 9-27.
Meira de Vasconcelos, A., & Rojas Lezana, Á. G. (2014). Análisis bibliométrico de la producción científica de 2002 a 2012 sobre calidad en servicios turísticos. Estudios y perspectivas en turismo, 23(4), 645-667.
Michalko, G., & Varadi, Z. (2004). Croatian shopping tourism in Hungary: The case study of Barcs. Tourism, 52(4), 351–359
Nicosia, E. (2020). Leisure Shopping and Fashion Tour: New Elements of the Marche Tourist Offer. Bollettino della Società Geografica Italiana, 105-115.
O'Cass, A. (2004). Fashion clothing consumption: antecedents and consequences of fashion clothing involvement. European Journal of Marketing, 38(7), 869-882.
Park, K. S., Reisinger, Y., & Noh, E. H. (2010). Luxury shopping in tourism. International Journal of Tourism Research, 12(2), 164-178.
Rabbiosi, C. (2011). The invention of shopping tourism. The discursive repositioning of landscape in an Italian retail-led case. Journal of Tourism and Cultural Change, 9(2), 70-86.
Rezaei, S., Ali, F., Amin, M., & Jayashree, S. (2016). Online impulse buying of tourism products: The role of web site personality, utilitarian and hedonic web browsing. Journal of Hospitality and Tourism Technology, 7 (1), 60-83.
Rovai, S. (2016). Chinese outbound shopping tourism: A market-driven approach for the luxury and fashion industry. Symphonya, (1), 56.
Santana, A. (2003). Turismo cultural, culturas turísticas. Horizontes antropológicos, 9(20), 31-57.
Sullivan, P., Bonn, M.A., Bhardwaj, V. & Dupont, A. (2012). Mexican national cross-border shopping: Exploration of retail tourism. Journal of Retailing and Consumer Services, 19(6), 596-604.
Tasci, A. D., & Denizci, B. (2010). Fashionable hospitality: A natural symbiosis for Hong Kong's tourism industry? International Journal of Hospitality Management, 29(3), 488-499.
Vizcaíno, M. L. (2015). Evolución del turismo en España: el turismo cultural. International journal of scientific management and tourism, 1(4), 75-95.
Yüksel, F. (2013). The streetscape: Effects on shopping tourists' product/service quality inferences and their approach behaviors. Journal of Quality Assurance in Hospitality & Tourism, 14(2), 101-122.
Zhang, B., & Kim, J. H. (2013). Luxury fashion consumption in China: Factors affecting attitude and purchase intent. Journal of retailing and consumer services, 20(1), 68-79.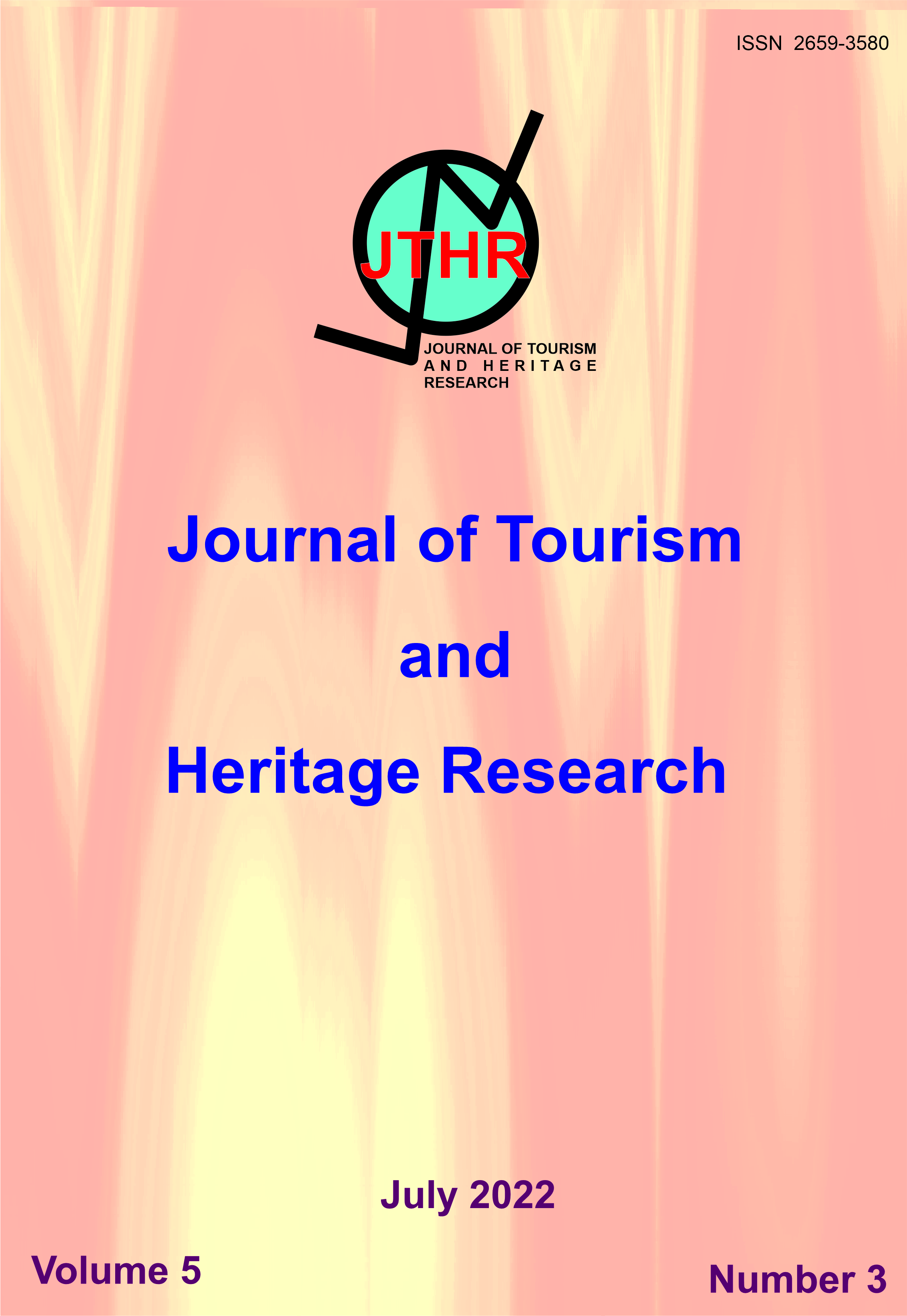 How to Cite
investur, investur, & Villena-Alarcón, E. (2022, July 1). AN OVERVIEW OF THE SCIENTIFIC RESEARCH ON SHOPPING TOURISM: FROM SCIENTIFIC PRODUCTION TO SCIENTIFIC COMMUNICATION. Journal of Tourism and Heritage Research, 5(3), 48-57. Retrieved from http://www.jthr.es/index.php/journal/article/view/392
This work is licensed under a Creative Commons Attribution 4.0 International License.
1.The works published in this magazine are subject to the following terms: Tourism Research Association (the publisher) preserves the patrimonial rights (copyright) of the published works, and favors and allows the reuse of them under the license of use indicated in point 2.
© Investur, 2017
2.The works are published in the electronic edition of the magazine under a Creative Commons Attribution-NonCommercial-NoDerivative 3.0 Spain (legal text) license. They can be copied, used, disseminated, transmitted and publicly displayed, provided that: i) the authorship and the original source of their publication (journal, editorial and URL of the work) are cited; ii) are not used for commercial purposes; iii) the existence and specifications of this license are mentioned.
3. Self-file conditions. Authors are allowed and encouraged to disseminate electronically the pre-print versions (version before being evaluated) and / or post-print (version evaluated and accepted for publication) of their works before publication, since it favors their circulation and earlier dissemination and with it a possible increase in its citation and scope among the academic community.