COMPANIES IN DANGER OF EXTINCTION: TRAVEL AGENCIES
investur investur

María del Carmen Ancona Alcocer

Universidad Juárez Autónoma de Tabasco
Keywords:
Travel Agencies, Digital Platforms, Tourist competition
Abstract
One of the sectors that suffered the most from the COVID-19 pandemic was Tourism, and the companies that revolve around this activity, among them are the Travel Agencies that were the link between tourists and the other organizations and institutions dedicated to promoting cities, countries and regions.
In Tabasco before March 2019, the Travel Agencies were a profitable business of the 18 that were in force in the city of Villahermosa, and that they were prosperous companies, currently only half survive.
The Research will be of a descriptive type, the factors for the survival of Travel Agencies and their Tourist competition will be analyzed with the digital platforms of sites dedicated to the sale of airline tickets, tourist circuits, and hotels on the Internet that grows day by day.
References
Aguirre, J. y Jaramillo, L. (2015) El papel de la descripción en la investigación cualitativa. Cinta moebio, 53, 175-189. doi: 10.4067/S0717-554X2015000200006
Ballarin, E. (2021). Escenario 2022: el reto del turismo para construir sociedades más felices. Autor. https://www.evaballarin.com/escenario-2022-el-reto-del-turismo-para-construir-sociedades-mas-felices/
Ceupe Magazine (2022). Las agencias de viajes, tipos, funciones, estructura y productividad.Autor. https://www.ceupe.com/blog/las-agencias-de-viajes.html
Corporate Travel Services (2022). La experiencia de comprar y vender on line. Autor. https://www.cts.com.mx/c-news/42/CTS-Escenarios.html#.YkeW_G5Bzt0
Entorno Turístico (2020). ¿Cómo se clasifican las agencias de viajes?. Autor. https://www.entornoturistico.com/como-se-clasifican-las-agencias-de-viajes/
Instituto Guatemalteco de Turismo (2020). Guía de actuación para agencias de viajes ante el COVID-19. Autor. https://www.oas.org/es/sedi/ddes/ct/documentos/COVID_19/Protocolos/GTM_GdA_Agencias_Viajes_s.pdf
Instituto Nacional de Estadística y Geografía [INEGI] (2021). Censos Económicos 2019, verificación2020 y 2021 Resultados definitivos. Autor. https://www.inegi.org.mx/contenidos/saladeprensa/boletines/2020/OtrTemEcon/CenEconResDef2019_Nal.pdf
Moreno, S. y Aguiar, T. (2006). Diagnóstico, tendencias y estrategias de futuro para las agencias de viajes: El caso del sector español. Estudios y perspectivas en turismo, 15(4), 327-349.
Organización de las Naciones Unidas, [ONU], (2020). Informe de políticas: La COVID-19 y la transformación del turismo. Autor. https://www.un.org/sites/un2.un.org/files/policy_brief_covid-19_and_transforming_tourism_spanish.pdf
Paredes, D.C., y Morillo, M.C. (2016). Influencia de la comunicación directa de las agencias de viaje en el turismo emisivo merideño. Saber, 28(1), 125-136. http://ve.scielo.org/scielo.php?script=sci_arttext&pid=S1315-01622016000100013&lng=es&tlng=es.
Rodríguez, L., Fraiz, J. A., Ramos, D. (2015).Las Agencias de Viajes ante la influencia de las Redes Sociales en el turismo. El caso de Ourense. PASOS. Revista de Turismo y Patrimonio Cultural, 13 (4), 829-836.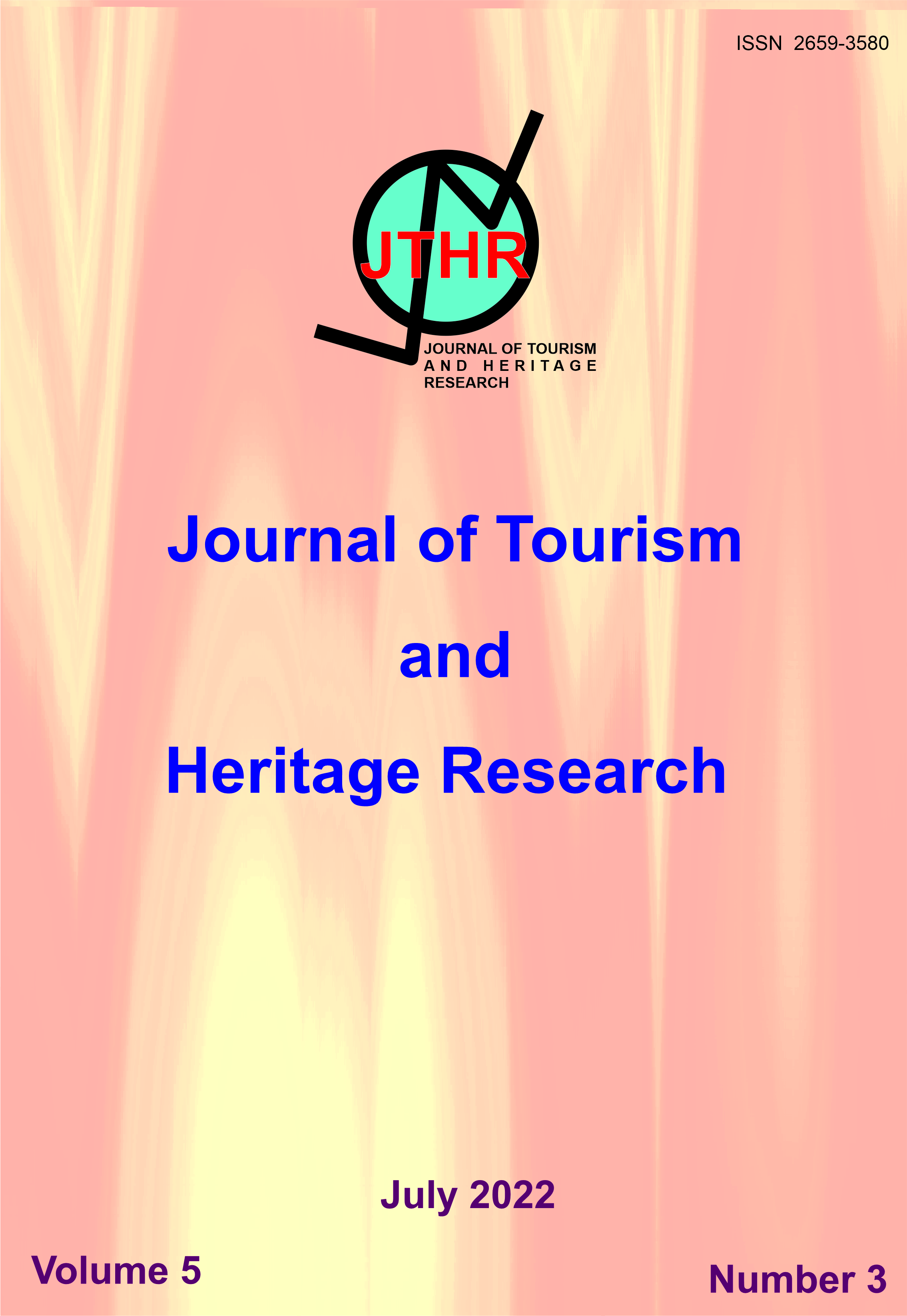 How to Cite
investur, investur, & Ancona Alcocer, M. del C. (2022, July 1). COMPANIES IN DANGER OF EXTINCTION: TRAVEL AGENCIES. Journal of Tourism and Heritage Research, 5(3), 99-106. Retrieved from http://www.jthr.es/index.php/journal/article/view/399
This work is licensed under a Creative Commons Attribution 4.0 International License.
1.The works published in this magazine are subject to the following terms: Tourism Research Association (the publisher) preserves the patrimonial rights (copyright) of the published works, and favors and allows the reuse of them under the license of use indicated in point 2.
© Investur, 2017
2.The works are published in the electronic edition of the magazine under a Creative Commons Attribution-NonCommercial-NoDerivative 3.0 Spain (legal text) license. They can be copied, used, disseminated, transmitted and publicly displayed, provided that: i) the authorship and the original source of their publication (journal, editorial and URL of the work) are cited; ii) are not used for commercial purposes; iii) the existence and specifications of this license are mentioned.
3. Self-file conditions. Authors are allowed and encouraged to disseminate electronically the pre-print versions (version before being evaluated) and / or post-print (version evaluated and accepted for publication) of their works before publication, since it favors their circulation and earlier dissemination and with it a possible increase in its citation and scope among the academic community.